Child's Woomera


Child's woomera, bought on ebay. Unfortunately, it was before I started paying attention to the details, so I can't tell you anything else about it. It is made out of a very lightweight wood and was missing the peg when I got it. It also had resin on the handle, which I left out in my design.



Material:
Wood, 17" x 1 3/4" x 3/8"
Dowel peg, 3/8" x 1"
Artificial sinew

Construction:


Starting 3" from the peg end, curve it down to a point from both sides.


Draw out the handle as shown.





5" from the handle end, the woomera should be 1 1/2" thick (in 1/8" from either side). Draw a line from there to the handle image.


5" from the peg end, draw lines down to meet the 1 1/2" thickness by the handle. Cut it out along the lines.


Round off the bottom of the woomera.




Round off all the edges and sand smooth.


Sharpen one end of the dowel peg. Cut the other end at a 60 degree angle. Glue it to the tip and wrap it in place with the sinew.


Original Child's Woomera




My Copy, version 1




My copy, version 2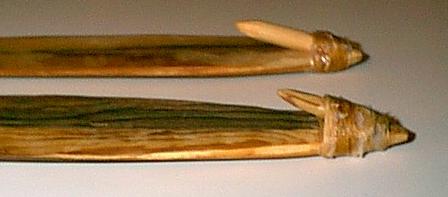 Close up view of the pegs


---
Atlatl Designs | Home