Point Barrow Throwing-Board


This is an arctic Point Barrow style throwing-board. The original was collected in Point Barrow, Alaska in 1883. The image is from "Throwing-Sticks In The National Museum" by Otis T. Mason, published by the Smithsonian Institute in 1890.

Here is the accompanying text:
Point Barrow type. The specific marks are the distinct handle without finger grooves, the very eccentric index-finger hole, the method of inserting the spur for the shaft, and the harpoon-shaft groove very shallow above and deep below. In the specimens collected by Mr. Murdoch there in great uniformity of shape.

Material:
Wood, 16 1/2" x 2 1/2" x 3/4"
Dowel, 1/4" x 5/8" long

Construction:

Cut out the peg end. Starting 12" from the end, taper it down to 3/4" wide at the tip. At 9" from the end, it should be 1 1/2" wide; at 4 1/2" from the tip, it should be 1" wide.






Cut out the handle. 3 3/8" from the end, cut in 1 1/2" on the high side and slant it up. On the groove side, cut in 1/2" and round out the end.






Cut the groove. Staring 1/2" from the peg end, cut a 3/8" wide groove. At the peg end, it should be 3/8" deep, slanting upwards to flush at the grip. Center it at the peg end, slanting it over to 3/4" from the edge at the grip.


Drill a 1/4" hole in the groove end, as close to level as you can. It's not critical, though.


Round off the ends and edges.


Round off the botton of the peg end.


Drill the fingerhole. Make it 3/4" for a small finger, 1" for a large finger.


Sand it all smooth.


Round off one end of the peg. Put glue in the hole, insert the flat end, and push it in firmly.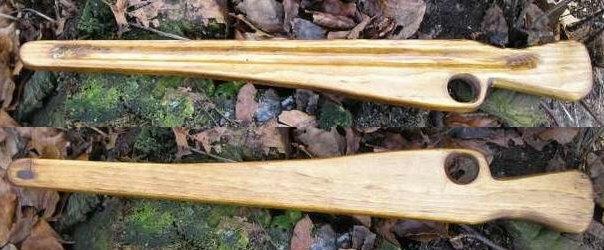 A Point Barrow throwing board made by Uwe, North Rhine-Westphalia, Germany.

Danke for letting me use the picture, Uwe!


---
Atlatl Designs | Home