Port Harrison Throwing Board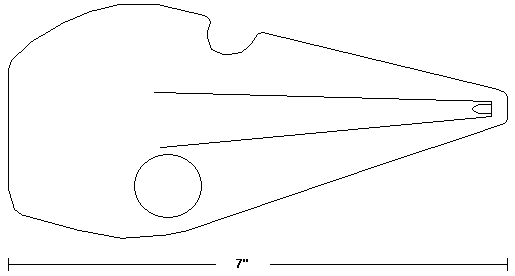 This is an Inuit throwing board from Port Harrison (now Inoucdjouac), located on the Hudson Bay in NE Quebec, Canada. It was collected in the early 1900s.

This is my attempt at figuring out a tiny image from the internet (g). As you can see from the picture at the bottom, the original throwing board isn't very large at all. I assumed the bird spear was 4' long, which makes the throwing board about 7" long.



Material:
Wood, 7" x 3 1/4" x 3/4"
Dowel, 3/16" x 3/4"

Construction:

Rough-cut the block into shape as below.






Drill the thumb hole. The center should be 2 1/4" from the bottom end and 3/4" from the edge. Use whatever you need for your own thumb. I drilled a 1" hole, which works fine.


Put your thumb through the hole and see where your hand fits over the side. Mark the location of your index finger and cut out a groove for it. Keep testing it as you work to make sure it's deep enough and comfortable enough when you hold the throwing board.


Round off all the edges and corners.


Carve the groove. Start it 3/8" from the end, and start it out 1/4" wide and 1/4" deep, tapering outward (and rising up to flush) at about the level of the thumb hole.


The original seems to have small depressions for the other fingers to rest. I couldn't find a position that felt comfortable, so I left them out.


Drill a 3/16" hole at the bottom of the groove. Try to make it about a 45 degree angle.


Round off one end of the dowel peg, put glue in the hole, and fit it in.






Image from Canada's Digital Collection, Hudson Bay Company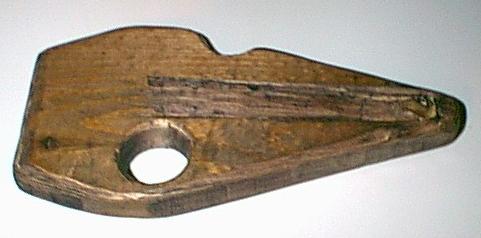 My Port Harrison Throwing Board
---
Atlatl Designs | Home