Queensland Woomera 1


Woomera, from Cape York, Queensland in northeastern Australia. This is an unusual style that it is very thin from side-to-side, but very high in the middle. This is typical of those from Cape York.



Material:
Wood, 24 1/2" x 3" x 5/16"
Dowel, 3/8" x 3"
(2) Clamshells/plastic
Resin/Rock Hard Water Putty
Artificial Sinew

This is can be trouble, so I've broken it down with illustrations.

Construction:

The Board

Shape the board. At 10" from the peg end it is 3" high, tapering to 3/4" at the peg end.


On the handle end, it tapers to 5/8" about 2" from the end, then cut out a block slightly smaller than your clamshells/plastic. This gives the resin something to bind to.






Round the edges and sand smooth.


Thin the peg end to 1/8" wide.






Cut a notch on the peg end 1/4" from the top. The notch should be 1/8" high and 1/4" deep (see picture below).
The Peg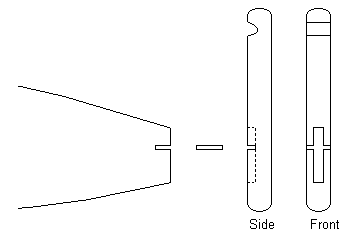 Round off the top and bottom of the dowel.


Starting 5/16" from the bottom, cut a groove 1/8" deep, 1/8" wide, and 3/4" high. This fits on the end of the board.


Cut a notch in the peg to match the board, 1/8" high by 1/8" deep.


3/8" from the top of the dowel, cut a notch and round it off. This is the peg for the dart.


Cut a piece of wood 3/8" x 3/8", 1/8" thick. This goes between the board and the peg.


Glue and assemble the peg.


Wrap it with artificial sinew.


Put resin/putty over the wrappings. Go 3" up the board.
The Handle
Put resin/putty on the handle end going up 6 1/2".


Put resin/putty on the handle block, going up about 1/4" on both sides.


Use two clamshells or pieces of plastic approx. 3 1/4" x 2 1/4". Put them on the resin/putty on either side, making them even.



---
Atlatl Designs | Home