Fishing Wommera



Australian fishing wommera, origin unknown. I found the picture in the book "Wurley and Wommera" by Janet Matthews.



Material:
Wood, 34 1/2" x 4" x 3/4"
Dowel, 1/2" x 2"
Resin/Rock Hard Water Putty
Artificial Sinew

Construction:


Shape the peg end. Starting 11 1/2" from the end, round it down to 1 1/2" wide 6" from the end. Leave it that wide for 2", then taper it to 1" wide at the end.


Cut out the handle end and shaft. Starting at the wide point by the peg end, taper it down to 3/4" wide 16" from the handle end. Keep it at 3/4" wide until 5" from the handle, then cut out the "spear head" shape.


Round off the ends.


Shape the wide sections into an ellipsis and round off the 3/4" section.






Drill a 3/8" hole through the board by the peg end. This is for the fishing line.


Sand everything smooth. Be sure to smooth the edges of the fishing line hole.


Taper one end of the peg to a point and cut the other end at a 60 degree angle. Glue it onto the peg tab, wrap it with sinew, and cover it with resin/putty.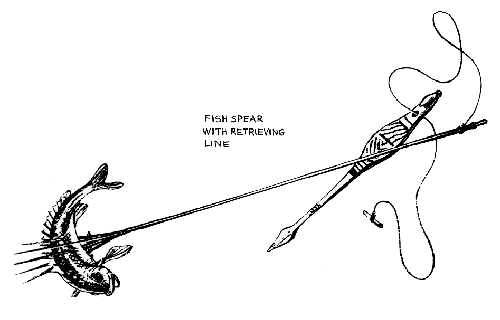 To use for fishing, tie one end of the line onto the dart shaft, pass the line through the hole, and tie the other end to a 1/2" x 3" dowel. This keeps the line for going out too far.


---
Atlatl Designs | Home